Between 16–18 June, as part of the Theatre Olympics, MITEM is hosting five performances of SnowShow by the company of iconic international cultural figure and legendary French-based Slava Polunin. We talked to the artist about the play, which has been a huge, continuing success for three decades. 
– You started your career as a mime artist. How did this later develop into your later character?
– I have always been attracted to the eccentric, the absurd, and the grotesque. In my early theatrical experiments I used these means of expression organically, until a director once told me that what I was doing was too grotesque, that it was more like clowning. I admit I didn't like the circus at the time, but then I dug into its history. I was exposed to the oeuvre of great masters, and the outstanding works of early cinema were also a great source of insight. I started to study what a clown was and I realised that it was very close to me. After that I just had to find my own character, and my own mask.
– Was Asissai and SnowShow born right away? 
– All performances are born slowly. Ideas, experiments, and the experience gained from them shape and mature a production. This was also the case with the SnowShow. I wanted to do something with my personality at the centre, just so that all the characters and emotions that I think are important in a performance could be brought together. 
– As far as I am aware, the art of Chaplin, Marcel Marceau, and Leonid Yengibarov were the biggest influences on the creation of your character, Asissai. What did you learn from them?
– I was 27 when Charlie Chaplin died in 1977. We have never met in person, but I can safely say that I know all of his creations and tricks. I've seen his movies hundreds of times and learned from them, and even dedicated an anthology to his gags. It was a different story with Marceau, I never missed a chance to see his performances and meet him when he came to Leningrad (T/N: Saint Petersburg). I was a kind of all-rounder for his company until one day he fell ill and asked me to replace him with my own performance. It was a great honour and a fantastic experience. As for Yengibarov, we didn't know each other either, but he was the one who opened up the world of tragicomic pantomime to us, and I've always looked up to him as a role model. 
– In the case of Asissai, we are talking about a silent character. What makes him attractive? 
– It's up to the audience to say, but I feel the love and sympathy for my character all the time. I think everyone sees it differently, but I haven't had much negative feedback. 
– The Budapest audience could already see SnowShow in 2019. Invited by MITEM, back then you performed at the Capital Circus of Budapest, and will now perform five times at the National Theatre. How can the performance be adapted to the circumstances?
– SnowShow's career began exactly thirty years ago. Not only over the years, but we change from performance to performance, depending on the different venues, the mood of our artists on the day, and the audience. I often specify who plays which role just before the performance. I think that's one of the keys to the play's survival after three decades and its ability to say something new. 
– This is no small task for the members of the company. How do you choose who you work with? 
– This is one of the hardest things, because I'm not just looking for good performers, but for special people with a propensity for happiness. I need personalities who can create a balanced, happy atmosphere around themselves, because that is the essence and driving force of our performances. We have to keep our eyes open to the world to find the best colleagues.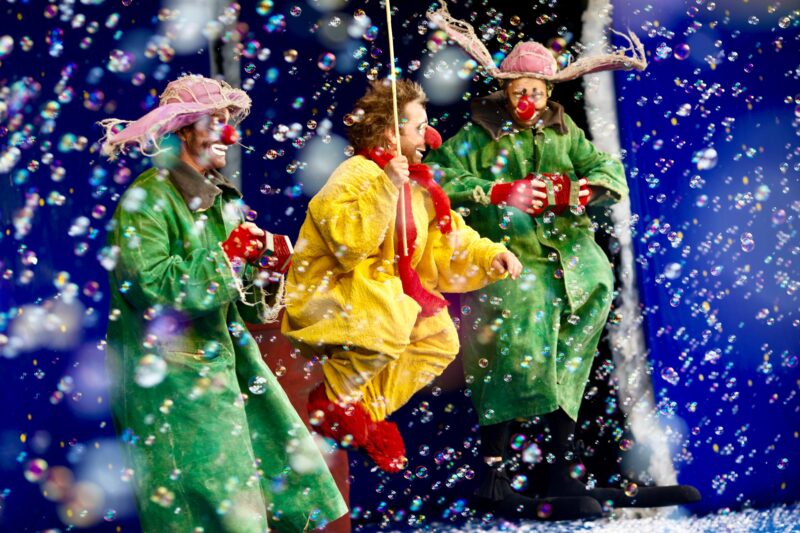 – What is most important to you as an artist?
– To put it simply, to stay honest and resonate with the audience, constantly pushing the thin boundaries between us as artists and the audience, and meanwhile finding a balance. For me, the most important thing is that the majority of the audience feels happy and wants to come back again. 
– In an interview, you said you know what it was like to be happy and wanted to share it. Can this be taught?
– That is certainly impossible, but it is possible to share the experience of a happy life, what makes me happy, and how I can maintain that feeling. If one member of the public can relate to that, then what we were doing is fulfilling its aims.   
– What are your plans for the future? 
– I'm over 70, we have a lot of gigs and I have even more ideas. I recently had an exhibition of my works, and I also have several books in preparation. We will soon be opening a new season of the Yellow Mill, our professional workshop near Paris, so I'm not bored. 
– If you had to choose, what would you save from the universal theatre culture into the 22nd century?
– What is insignificant is forgotten automatically, but everything else we are obliged to preserve. There are some phenomena, such as the Comedia dell' Arte or Meyerhold's experiments, which are closer to me, but that does not mean that we do not need ancient Greek tragedy or Kabuki theatre. The elements of human culture are like strung gemstones, each one inimitable and, for those who want to create, vital. So let's put everything we have on that ark, take care of it, enrich it and, above all, make it available for posterity.
Interview with Slava Polunin by Máté Ur.