Eyal Dadon was born in Beersheba, Israel in 1989. After two year of folk dance, at the age of 17 Dadon began his professional classical and modern dance studies at the Bat Dor Dance School in Be'ersheva. Dadon joined Kamea Dance Company in 2008, Kibbutz Contemporary Dance Company II in 2010, Kibbutz Contemporary Dance Company I in 2011.In 2015 Dadon became the rehearsal director and sound engineer of Kibbutz Company I.
Since 2011, Dadon has been choreographing his own work around the world and in Israel. His work has received international awards in Hannover, Jerusalem, Bulgaria and China. Dadon is creating for companies and theaters around the world such as Stanislavsky Opera Ballet Moscow, Kibbutz Contemporary Dance Company Israel, Xin Xie Dance Theatre Shanghai, BJ9CDT Beijing, Chang Dance Theatre Taiwan, Jerusalem Dance Theater, Bayerisch Staatsoper Munich, Gartnerplatz staatsteater Munich, Thalia Theater Hamburg, The Czech National Ballet Prague, Hessisches staatsballett Wiesbaden, Fresco Dance Company Israel, and more.
In 2016 Dadon got selected by the city Beersheba to establish and lead the Theater 'House of Dance'. There, he established his dance company 'SOL Dance Company' where he researches movement with his dance artists. With SOL Dance Company he created his works such as SALE (2016), DU-K (2017), TOML (2018), ALGO (2019), GEORGE 2.2 (2020). In addition to his creations, Dadon is creating music and working with music projects around Israel and the world.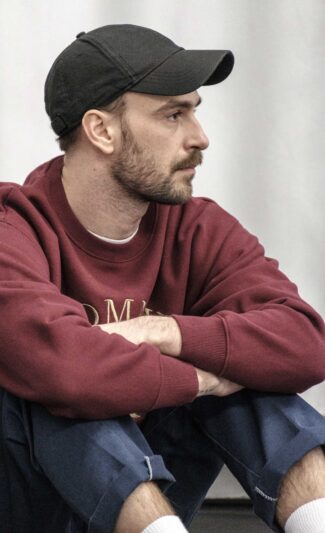 Diego Tortelli studied first at STUDIO 76 in Brescia, then at the Accademia Nazionale di Danza in Rome, and finally at the Accademia Teatro alla Scala.
He started his career in Valencia with the Ballet de Teatres, and was subsequently invited by Gustavo Ramirez to join the Luna Negra company in Chicago. In 2012 he joined Le Ballet National de Marseille/ Frederic Flamand. Since 2015, he has worked as a freelancer with the Munich Opera, the BOD/Richard Siegal, the Korzo Theater, and La Veronal.
His work as a choreographer has led him to the creation of: Descamino de Dos for INTRODANS and CND Madrid – co-created with Mattia Russo with whom he then co-founded the KOR'SIA cultural association along with Antonio de Rosa and Giuseppe Dagostino –, followed by Recapitulo for MCA in Chicago, We are all sanpaku with musician Emanuele Maniscalco, Carmen Suite for EKO Dance Project, Vox multitudinis for the Teatro Massimo in Palermo, Vitreae Vultus for the MILANoLTRE festival, and Cursus for Palcoscenico Danza Torino, with EKO Dance Project again. In 2017 he created Sleeping Beauty for Nuovo Balletto di Toscana. In 2018 he created Lorca sono tutti for MILANoLTRE 2018 and Domus Aurea within Bach Project for Fondazione Nazionale della Danza / Aterballetto. In 2019 he created Shifting Perspective in co-production between Tanzburo Munchen, Kampnagel Hamburg and Fabrik Potsdam, also he created Inter-view: Emanuele e Clément site-specific work for Fondazione Nazionale della Danza / Aterballetto on the themes of able-disable for the opening of Fotografia Europea, and A poetry abstraction, commissioned by Marina Rinaldi. In 2020, again for Fondazione Nazionale della Danza / Aterballetto, he created Feeling good, for a disable dancer and a not-disable dancer, the video-creation 1 meter CLOSER, which premiered on Rai5, and the video-installation LASCIA CH'IO…
In 2019 he founds in Munich together with his dramaturg Miria Wurm his personal research project with the support of the Muffathalle Theatre and the Munich Art Department. In 2020 they present their first evening as an independent project entitled SNOW CRASH. In 2021 he creates for Aterballetto Preludio and Another Story for the evening Storie, and the MicroDanze both in live version and in virtual reality Kepler and Meridiana. In 2022 he creates the choreographies for the New Year's Concert live on Rai1, signs the site-specific performance Stanze\Rooms and the creation for the 16 Aterballetto dancers SHOOT ME.
Diego Tortelli is resident choreographer at Fondazione Nazionale della Danza / Aterballetto and associate choreographer of the dance festival MILANoLTRE and house of production Tanzburo Munchen. In 2021 he is the winner of the first call for Italian artists launched by La Biennale di Venezia with the Dance Department, directed by Wayne McGregor, for the development of a new and original choreographic project.