Lukáš Timuľak
Slovak choreographer works in the fields of performing arts and film. After the study at Dance Conservatory in Bratislava (Slovakia) and Académie de danse classique Princesse Grace in Monaco in 1997 he joined Les Ballets de Monte Carlo.
In 2000 he joined Nederlands Dans Theater. He has choreographed for several companies around the world including NDT, Gothenburg Ballet, Balé da Cidade de São Paulo, Royal Swedish Ballet, Staatsballett Hannover, Lyon Opera Ballet among others.
For Slovak National Theatre he created ballets Real Time and TWO. His interest in cinematography led him to intensive study at New York Film Academy, which strengthened his skills as an editor and director for short films & documentaries. Most of his works since 2004 are in collaboration with designer Peter Bilak, concerning new concepts for contemporary dance. In 2017 they started Make Move Think foundation for interdisciplinary artistic collaboration.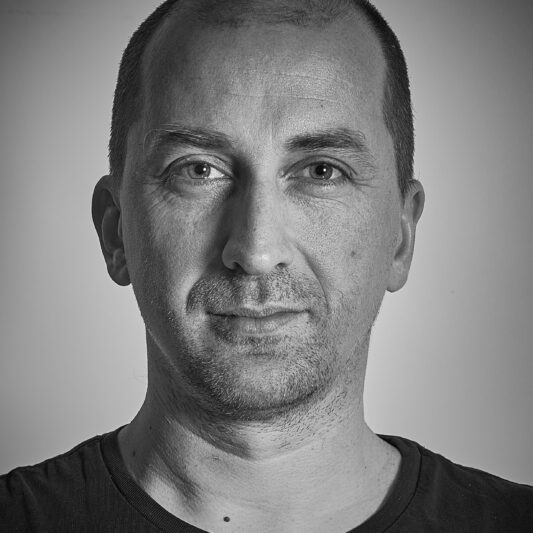 Roman Novitzky
He received his dance training at the Ballet Conservatory in Bratislava from which he graduated in 2003. For six years he danced with the National Ballet of Slovakia before joining the Stuttgart Ballet in 2009. In 2011/12 he was promoted to Demi-Soloist, in 2013/14 to Soloist and in September 2015 to Principal Dancer. As of the 2022-23 season Roman Novitzky is Stuttgart Ballet's Artist in Residence.

His repertory also includes works by John Cranko, Kenneth Macmillan, John Neumeier, George Balanchine, Maurice Béjart, Glen Tetley, Hans van Manen, Jiří Kylián, Wayne McGregor and Jorma Elo. Internationally acclaimed choreographers such as Mauro Bigonzetti, Edward Clug, Marco Goecke, Christian Spuck und Demis Volpi have created roles especially for him.

In 2012 Roman Novitzky choreographed his first ballet for the renowned Noverre-Society's Young Choreographers evening. His second work for the Noverre-Society in 2013 – Are You as Big as Me? – was so successful that it was taken into the Stuttgart Ballet repertory immediately where it has become a cult hit. Later it became as part of reperory of Slovak National Theatre and was also danced by Daniil Simkin, Leonid Sarafanov and Daniel Camargo at the "Princes of Ballet" Gala in Tokyo. In 2014 and 2016, Novitzky created two more works for the Noverre-Society – Cello contra bass, has also been taken into the repertory of the Stuttgart Ballet. In 2018 he created with great success his first piece for the Stuttgart Ballet: Under the Surface. Two seasons later he created Impuls and Everybody Needs Some/Body for the Stuttgart Ballet. In Dance Europe's Critics' Choice 2020 his choreography Everybody Needs Some/Body was named in the category "Best Premiere". In 2022 he created Extavaganza for Slovak National Ballet as a part of project Fashion Ballet´22.

In addition, Roman Novitzky is also one of the official photographers of the Stuttgart Ballet. His photos have been published in international dance magazines, books, programs and German newspapers, as well as for ad campaigns for the Stuttgart Ballet. In the summer of 2018 his first book The dancing view.
Edwaard Liang
A former dancer with New York City Ballet and Nederlands Dans Theater, Edwaard Liang has built an international reputation as a choreographer. Over the last decade, he has created work for the Bolshoi Ballet, Houston Ballet, Joffrey Ballet, Kirov Ballet, New York City Ballet, Pacific Northwest Ballet, San Francisco Ballet, Shanghai Ballet, Singapore Dance Theatre and Washington Ballet.
Born in Taipei, Taiwan and raised in Marin County, California, Mr. Liang began his dance training at age five with Marin Ballet. After studying at the School of American Ballet, he joined New York City Ballet in 1993. That same year, he was a medal winner at the Prix de Lausanne International Ballet Competition and won the Mae L. Wien Award. By 1998, he was promoted to Soloist. In 2001, Mr. Liang joined the Tony Award® winning Broadway cast of Fosse. His performance in Fosse was later televised nationally on PBS' Great Performances series – "Dance in America: From Broadway: Fosse," and subsequently released on DVD. By 2002, Mr. Liang was invited by Jiri Kylian to become a member of the acclaimed Nederlands Dans Theater 1.
While dancing with NDT 1, Mr. Liang discovered his passion and love for choreography. Since establishing himself as a choreographer, his works have been performed by dance companies around the world and he has won numerous awards for his choreography including the 2006 National Choreographic Competition.
In 2013, Mr. Liang was named Artistic Director at BalletMet where he continues to choreograph new works for companies both domestically and abroad. In 2017, he received an Emmy® Award for his short dance film, "Vaulted." In 2018, he created a new ballet with Roberto Bolle for the opening of the World Economic Forum Annual Meeting in Davos, Switzerland.
Craig Davidson
Australian born choreographer Craig Davidson trained at the New Zealand School of Dance. After graduation in 2022, he was asked by Dinna Bjorn to join the Finnish National Ballet. Later he danced with the Royal Ballet of Flanders, where under the artistic leadership of Kathryn Bennetts was promoted to the position of a soloist. Here he was awarded a Critic´s Choice Award by Dance Europe for Most Outstanding Performance by Male Dancer for his performance in Impressing the Czar by William Forsythe. In 2003 he worked with Tanz Luzerner Theater, and the following season, he joined the Semperoper Ballett in Dresden.
As a dancer, he interpreted numerous soloist roles. He worked with choreographers such as William Forsythe, Jiří Kylián, Mats Ek, David Dawson, Wayne McGregor, Jacopo Godani, Nicolo Fonte, Jorma Elo, and Alexander Ekman. As a choreographer, he created world premieres for Royal Ballet of Flanders, Junior Ballett Zürich, Ballett Dortmund, Queensland ballet, West Australian Ballet, Atlanta ballet adn Ballet Idaho. Davidson´s selected Works have been performed internationally by principal dancers from the Royal Ballet London, Ballet de l´Opéra de Pairs, Semperoper Ballett, Ballett Zürich and Slovak National Ballet.

Additionally, Davidson has attended Dancelines, the Choreographic Initiative at the Royal Opera House led by Kim Brandstrup and New York Choreographic Institute, a New York City Ballet affiliate.